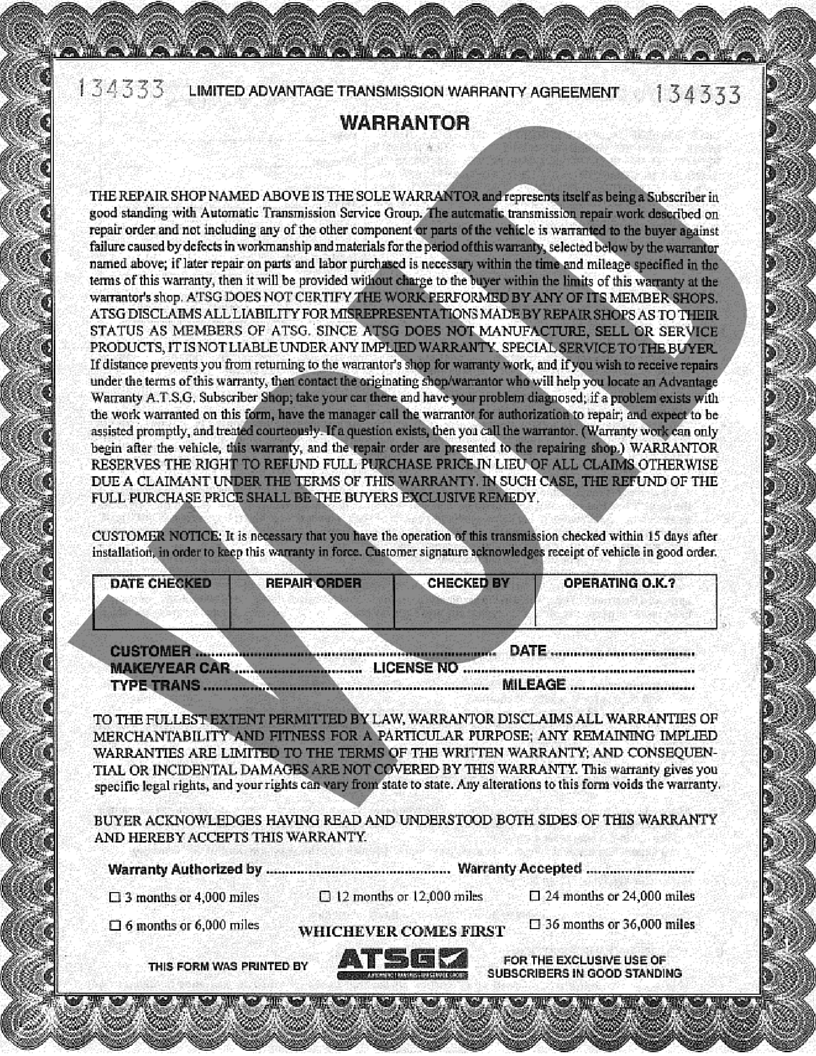 What is "The ATSG Advantage Warranty"?
The ATSG Advantage Warranty is a nationwide warranty that allows customers who have encountered any problems while out of state or a substantial distance away from the ATSG warrantor shop who performed the original rebuild of their transmission will be able to take advantage of having their transmission corrected free of charge and billed to the originating "Warrantor Shop". ATSG will also provide its Warranty Members with warranty forms to utilize in their shops and provide to their customers!
ATSG is one of the most recognized, self-employed organizations of automatic transmission and total car care shops worldwide, making the ATSG Advantage Warranty one of the most widely accepted warranties of any chain or franchise in the industry.
What Are The Benefits of Becoming an ATSG Advantage Warranty Member?
There is no additional cost for the warranty to existing members

Feel confident with repairs knowing another ATSG Certified Member is working on your customer's vehicle

Cost guidelines to assure prices are fair

Attracts customers who may be traveling or may be passing through your neck of the woods

ATSG is at your service from beginning to end to assure proper handling of warranty work

If Certified Members/Subscribers would like their logo or shops name pre-printed on the warranty forms, this can be done for a small charge of $25 per 100 forms
The ATSG Advantage Warranty is Offered Under the Following 5 Terms:

To locate an ATSG Advantage Warranty Member, simply give us a call for shops that participates in the ATSG Advantage Warranty Program and the correct information will be communicated to you.
For warranty repairs, please contact the original warrantor shop. ATSG Advantage Warranty remains valid for the term of the warranty (terms and conditions apply and are listed on the warranty form as well as below), provided the original warrantor shop is an ATSG Member who is in good standing during the term of the warranty.
If you have a comments or questions, please contact our Advantage Warranty department by submitting an online request here or calling (305) 670-4161 and ask for Heidi.